Too busy to post much of anything at the moment. Trying to write books, here!
But I include, for your viewing pleasure and possible puzzlement, 3 collages.
When Ann Zeddies, Geary Gravel, and I get together for a weekend, as we did a couple of weeks ago, it is traditional for us to create collages. Usually starting late at night, and proceeding until the wee hours of the morning. Fueled by creative frenzy, coffee, and champagne. In previous years, also chocolate, but we cut that out this year.
Method:
1. grab some magazines
2. rip out any image or phrase that appeals to you, even if you don't know why. In fact, especially if you don't know why.
3. Assemble into a single image.
The point is to not begin with any particular design in mind — don't pick elements in order to make a statement; pick elements you like, and find out what statement is implied. The result can sometimes be lovely, sometimes disturbing, but often illuminating.
Voila!:
And they did say it was okay to post these (I asked to make certain), from:
Mr. Gravel: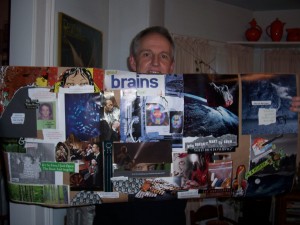 and Ann: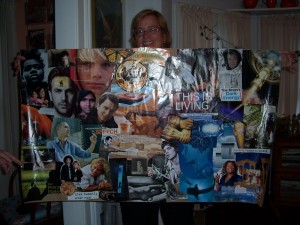 Okay, I've spent too much time on this post — back to writing!