The Con or Bust fund-raising auction for 2017 is up and running.  As usual, I'm contributing items to be auctioned.
Here they are; and if you want to bid on any of them, it's easy to do, over at the  the Con or Bust auction site.
First up:Â  a hand bound blank book.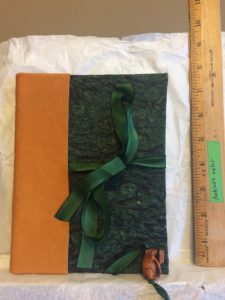 Bookbinding is a hobby of mine, but I haven't done much of it lately.  This was a good excuse, and a kick in the butt to get back to it.
This book has a cover of thick, wrinkle-textured art paper, and the spine is lovely soft buckskin (if you're against leather on principle, this book is not for you).   I've had the leather for a long time, and haven't found a project that cried out for it — but when I saw the green paper cover, the combination seemed just perfect.  The ribbon ties are old silk, and there's a silk ribbon attached bookmark.  With, yes, that is a mouse.
The end-papers have leafy bits included in the paper itself.  I love them.
The inside paper is the sort of calligraphy paper that gets called "parchment" even though that's not real parchment (she said snootily).    It's very nice paper, and works well with fountain pen as well as pretty much every other pen or pencil type.
And there's a mouse.
He's a netsuke-like wood carving, and I bought him in the dealer's room at Worldcon in 2015, which was in Spokane, along with a handful of others of various animal design.   I knew I could use them for book embellishments… But I honestly completely forgot I had them!  This happens fairly often: I'll see something perfect for bookbinding, but won't have a particular project in mind.  So, I tuck it away — and rediscover it later, to my great delight. When I make a book, I don't have a design in mind at first; I look at the materials on hand, and let them inspire me.   When I decided to make a book for Con or Bust, I started sifting through what I had on hand, and re-found the mouse!  That was it, I had it: Mouse, forest, green, leaves, buckskin.
The mouse is reading a magazine, by the way, and not a book.  You can tell by how he has the cover folded back:
Yes, this book can be yours!  Just head on over to the Con or Bust Auction site.  Bidding is easy.
Other items: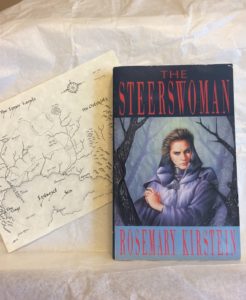 It's a copy of the British edition of the Steerswoman.   Physical copies of my books are hard to find — but I have a few copies of the British publication by Pan Books. It's mass-market paperback size.   As a bonus, I've printed out a map of Rowan's world on "parchment" paper.  Looks nice.  Warning: The map inside each book is different, as Rowan discovers more and more — but this map is as of Volume 4.  Which means that it contains potential spoilers.   (I used the Volume 4 map because the Volume 1 map is so sparse it just doesn't look very appealing.)
Also:
The Lost Steersman (Volume 3 of the series)  also with a parchment map.  Also spoilery, in a sense:  The landscape on the map is discovered during the events of the book.  So, you can follow along, if you like…
And finally:
The Language of Power, (Volume 4 of the series) also with parchment map.
In years past, I've printed the map out on handmade paper that I'd made some years ago, experimentally.  But I've used it up (the plain paper, that is).  But the parchment works pretty well, I think.
So, there's Volume 1, Volume 3, and Volume 4 –Â  why no copy of Volume 2, The Outskirter's Secret?
I have no extra copies.  Alas.
I have a couple of copies which I use for reference and readings, but for some reason extra copies of The Outskirter's Secret weren't made available to me, back when they were published.   Actually, I'm almost out of copies of The Language of Power now, too.
So, those are my contributions to the  Con or Bust's fund-raising auction.
What is Con or Bust?  It's an organization that helps people of color attend science fiction and fantasy conventions.   Here's the official blurb from their site:
Con or Bust, Inc., is a tax-exempt not-for-profit organization (EIN: 81-2141738) that helps people of color/non-white people attend SFF conventions (how to request assistance). Con or Bust isn't a scholarship and isn't limited to the United States, to particular types of con-goers, or to specific cons; its goal is simply to help fans of color go to SFF cons and be their own awesome selves. It is funded through donations and an online auction held annually.
This is why I support Con or Bust:
a) Everyone should read science fiction and fantasy.  SF/F is actually good for you!   It increases your intellectual and imaginative skills, deepens your understanding of the world, and can be a great source of joy.
b) Everyone who likes SF/F should go to a convention at some point in their life, multiple times if possible.  At conventions, you meet other like-minded people, people who take delight in the same things you do — and you learn that you are not weird, are not a misfit, and are not alone.  There are lots of us.  And we want you.
c) People of color, and especially African-Americans, are very often actively discouraged by educators and American society in general from pursuing intellectual goals, or seeking intellectual values.  I view this as a crime, and a tragedy.  And it also means that many potential readers — and potential writers — of SF/F are directed away from our field, away from all its delights and benefits.   But by helping people of color get to conventions, Con or Bust is acting directly against those negative messages.  It says, explicitly: you do belong here.
There are all sorts of nifty things (and services) being offered over at the auction, and you should check them out.   You might find something you didn't know existed, and now simply MUST have.
Like, oh… this:
Farscape script, with an actual piece of Moya.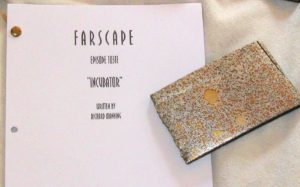 … Bidding ends at May 7, 4PM Eastern time.