Offsite writing locations — the search continues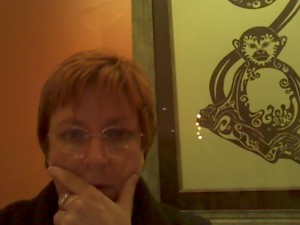 Checking out the Funky Monkey Cafe and Gallery.
I have high hopes for this place.  I felt right at home as soon as I walked in.   Posters in the windows for upcoming live music, bulletin board covered in local flyers.   Weird art on the wall (Day of the Dead themed, to suit the season).  Chalkboard on the wall for a menu — although someone here is an artist, judging by the cool lettering.
Latte is GREAT!    Waiting for my BLT….
Check out the monkey behind me.   I am loving this monkey.
It's possibly a bit noisy, but I'm here at what's probably their busiest time on a non-music evening.
Plus: the background music coming over the loudspeakers is non-horrible.
And: The flyers for the live music look really promising.
Also: my BLT arrived, and it is to die for.
Now: is it possible to actually write here?   Let's see….