I've successfully accomplished Readercon, or at least my part of it. The panel discussion on the phenomenon of the book size inflation was seriously excellent, with me,the lovely and talented Walter H. Hunt; the always-edifying Tom Easton; the multiply-skilled teacher/writer/reviewer Leigh Grossman; and the ever-remarkable and estimable Howard Waldrop.
Upshot? It's caused by:
a) the fact that overworked editors rarely have the time to do much real editing these days, and do not always encourage authors to choose the one right word when a paragraph or two will accomplish the same thing
b) the phenomenon of the author who is so successful that whatever they write will sell, so why edit it at all?
c) changes in technology that make it easier and cheaper to print big fat books, so there's little pressure not to do so
e) other changes in technology that make it easier for the author to get the words on the page quickly and painlessly (I'm talking word processors, here), so there's more impulse to just keep on writing
f) still other changes in technology (talking E-books here), that make it just as easy to lug around a 1,000 page tome as it is to carry around a magazine,
And my personal favorite:
g) the desire or the reader to immerse in the imagined world, and stay there as long as possible, and return in subsequent volumes as often as possible, because it's fun there and we like it.
All of these things operating simultaneously, see.
Other highlights:
My signing, where actual persons actually asked for my autograph, with entertaining conversation during the slow times with Alex Jablokov and the perennial Walter H Hunt, who were sharing the autograph table with me.
My Kaffeeklatsch, where two small klatsches were merged into one reasonable sized one, and I ended up sharing space, fans, and quips with some guy named — what was it again? Oh, yeah, Walter Hunt
After Readercon, it was off to my usual post-con gathering with Ann Tonsor Zeddies and Geary Gravel, where we discuss and examine art, life, humanity, technology, science, truth, beauty, fate, love, longing, literature, dogs, two-sided sticky tape, champagne, local restaurants, and the heat death of the universe. Plus: arts and crafts
Usually, we do collages. Like this one:

This time Ann had the brilliant idea of doing masks instead! After much struggling with the materials (we now know how to do it so it'll be better next time) we came up with these:

Here they are closer, but not as clear as I hoped they'd come out. The titles (in hovertext) are my own, and if Ann & Geary disagree, they are free to correct me. If They Dare!
Ann's:
and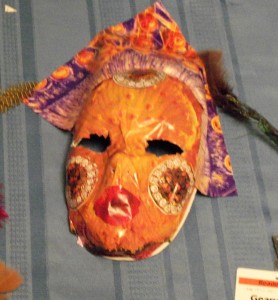 These are Geary's:
and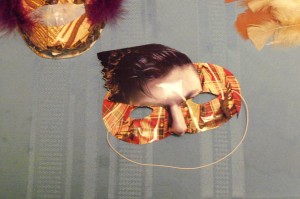 And my two: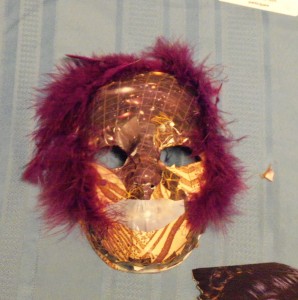 and
It was fun. Messy, but fun — I mean: Messy PLUS fun.
Many thanks to Geary (and Berry) for hosting the event.